**Disclaimer: I am not shitting on Goodreads, or any other book-rating website. I actually think it's an amazing thing and it's allowed me to discover and keep track of some pretty important/crazy-good books. The following is my angst-filled rant at my inability to manage my own subjective rating system.
When I first got myself on Goodreads, I thought it was the coolest thing ever. It allowed me to keep lists of books I found interesting and rate the books I was reading. It didn't take long for me to realize that I wasn't so much into the reviewing part of it. I just can't seem to articulate my thoughts of a book and it started to feel like a chore. But that was cool, because I still had those 5 stars to play with. It takes one second to rate a book that way.
Something dawned on me the other day, when I 5-stared a book I thoroughly enjoyed: How many books I rate are truly worthy of the 5-star rating? And I don't mean according to general opinion/merit. I mean just by my own subjective rating system. It started to feel a little like sitting on the American Idol judge panel, handing out marks that were just…saturated in circumstantial, arbitrary unreliability.
If I were to line up my 5-star books, and rate those out of 5 stars, they'd probably be all over the place. I might realize that I 5-stared a book just because I'm a fan of the author in general, even though their 5-star book wasn't as enjoyable a read as a 4-star or 3-star from another author/genre. So, what I'm saying is that it's all bullshit-ty, the way I rate. I don't even understand how one can rate using 5 stars. Like, I think if it was a percentage, it might be more accurate. I could see myself rate a book an 82% and another one an 86% just based on holding them up against each other. I'd have more flexibility. With 5 stars, you don't have that. Plus, I tend to want to save my 1-star rating for something horribly awful and offensive, but what about a book that just promised such great things and miserably failed? What's worse?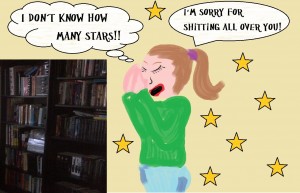 Another dumb thing I did when I went on Goodreads is to randomly think up books I've read in the past just so I could enter them in my "read" category and assign them a rating. Well, since becoming a serious writer—gaining that hypercritical reader's eye that I'm so fond of—I'm embarrassed at some of what I thought was "amazing". Because now, if I picked up "amazing" book, I'd either put it down after a few chapters, or I'd have to take into consideration the things my hypercritical eye picks up on, making the "shitty versus awesome" scale tip significantly, thereby lowering the star rating. Does that take away from the fact that at that point in my life, the book served the purpose a book is supposed to serve? That said book was actually amazing and nearly flawless to me then? No. But, I feel like my reader self from three years ago is someone else entirely. I either have to remove all books I've read before three years ago, or I have to reread them completely in order to assign a true rating—which I'm not going to do because my "to read" list is lengthy, not to mention my stacks of "haven't yet read but already bought" books at home.
But once again, we're back at the fact that I can't really trust my current rating system anyway…
So, I guess there's nothing to be done. I'm not sure why I felt the need to ramble about this. Although, I kind of feel better about the whole thing. I may have gained enough Goodreads self-awareness through this post.
I'd be interested in hearing anyone's thoughts about Goodreads (or any other book rating system). I know I'm fretting over it too much, but it's not like it keeps me up at night. 😉